About Nepal
---
Location
Nepal, a sovereign independent democratic country, is rich in its natural beauty, cultural heritage diversified geographical position. It is a landlocked country. It has an area of 147,181 square kilometers (56,827 sq mi) and a population of approximately 27 million. he mountainous north of Nepal has eight of the world's ten tallest mountains, including the highest point on Earth, Mount Everest, called Sagarmatha. It is located in the Himalayas and bordered to the north by the Peoples Republic Of China, and to the south, east, and west by the Republic Of India. Nepal is separated from Bangaladesh by the narrow Indian Siliguri.Kathmandu is the nation's capital and largest metropolis.
Weather
The weather and climate varies from hot summers to severe winters. Nepal is known for its natural beauty and it has its own cultures. It has more than 70 ethnic groups and more than 60 different languages are spoken in different parts of Nepal. Nepali is the national language of Nepal. People practice several religion. Till now Hinduism and Buddhism have the largest population. Kathmandu is the capital, and Nepal has 30 millions people. 
Nepal has four climate
Spring :March –May   
Summer:June-August
Autumn:September-November
Winter:December-February
People in Nepal commonly welcome you Namaste as a traditional salute (means I salute the divine in you) which is wisely used in the most part of country. About 23 million Nepalese are made of 69 different cultural and linguistic group also known as ethnic groups living in different, regions of the country. Mostly each ethnic group has their own unique costumes, speak their own languages or dialects, and follow their own religious practices.
In Nepal generally 
two major groups of people can be found in high Himalayan region Tibitan origin (Tibeto-Burman or Bhot Burmes) and in low land to mid hill Indo-Aryan (Bharopeli) origin groups. Himalayan region settlements of Tibetan-speaking groups Sherpa, Tibetan origin Gurung of Manang, Mustang and Dolpo region and Thakali of Mustang's high plain are found in sub alpine to trans Himalayan areas. Outside Nepal, the best known are the Sherpa people who has gained world renown and interest because of their 
mountaineering skills. In fact, the word "Sherpa," meaning mountain guide in English, comes from the group's proud Sherpa name.
In the mid hill mostly settled Rai, Limbu, Tamang, Magar, Sunwar, Gurung and Chepang groups as well as other mongoloid groups live in this areas. The Brahmans, Chhetris, Newar and Thakuris and different occupational groups Kami, Damai Sarki, Gaine are spread generally over most parts of the country. In towns Newar, Marbadi, Punjabi, Brahaman, Kshetri and other mixed groups are also settled. The groups of Rai, Limbu, Gurung, Magar are popular as Gurkha solder in the world. 
In Terai Plain Brahaman, Kshetri, Rajput, Tharu, Danuwar, Majhi, Darai, Rajbansi, Satar, Dhimal, and Jhangar, Singh, Jha, Yadav and Lal(Mithila) people inhabit in the dun, valleys and different occupational groups are living and being bound together by the ideas of peace and harmony. Terai's Mithila groups are popular for their authentic traditional arts and paintings. But however mostly either living in hilly region or Terai region their major occupation is traditional agriculture broadly adopted. 
MainOccupations
In general mostly Nepalese people are involved in their traditional occupation agriculture. Most of the people those who are living out of town they belongs their own family farm land where they grow both main crops and different cash crops seasonally
Culture: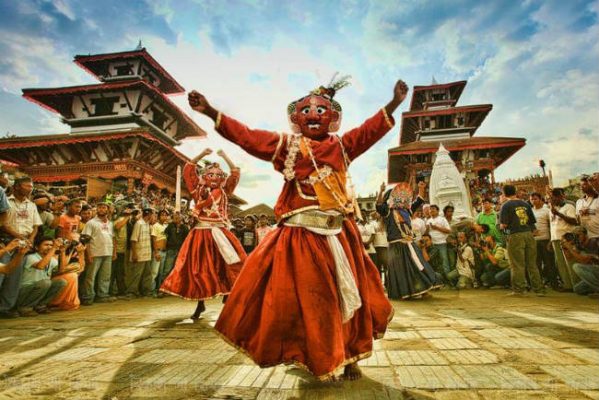 Since Nepal was declared federal democratic republic nation, the people of 
Nepal living in various society got right to establish there own religion belief so thereafter Nepal is known as multi religious to the entire world. Due to its huge diversified land division people living in the various regions in different ethnic groups they follow their own way of religious 
practice, lifestyle, language, culture and tradition with ever peace of harmony in society. About 80% of total populations are Hindu religion follower lives in the all over Nepal's east to west up to Maha Bharat range in north, about 10% Buddhist religion people among live bellow of Himalayan region to mid hill, valleys and in towns together 4% Muslim religious people and rest of other religious people live in different parts of the country. 
Currency Unit
Nepalese Rupees(NRP)is basic monitary unit approximately equivalents to 100NRP for 1US$
but the exchange rate may vary from time to time.Master card,Visa and American Express are
accepted in Nepal.
Weekend Holiday
Saturday is the weekend holiday in the country.
Business Hour
The office hours for goverment and non-goverment offices is from 10:00am to 5:00pm and the
working hour for industrial and other workers is 8 hrs a day and 48hrs a week.
Visa Information
Visa can be optained from the Embassy of Nepal or Consulate Office or at  the airport upon arrival.
Single Visa charge:US$30 for 50 days
Multiple Entry Visa Charge:US$50
The visa can be extended up to 120 days from the Department of Immigration, Kathmandu and Pokhara Office.
Another 30 days can be extended on the resonable ground